| | |
| --- | --- |
| | |

DVD
Episodes
Students
Faculty
Cast
Crew
TV Series Facts/Errors
School Facts/Lingo
Interviews
Theme Song
Links
Message Board
Chat Room
Memories Guestbook
GHS My Space Page

Follow us on:




Galaxy High owned by

<09.16.2009> - SAD NEWS
Galaxy High voice actor, Henry Gibson passed away at the age of 73. Gibson was suffering from cancer and passed away Monday night. He is most famous for appearing in Rowan and Martin's Laugh-In in the 1960s and has acted in many other TV and film projects. His most recent was Judge Clarence Brown on Boston Legal. Gibson was the voices of Aimee's locker #X234V9, Doyle's locker #Z4229Q, Al Gatori, Ms. McBrain's blackboard and various other characters in the Galaxy High animated series

<05.01.2009> SITE FINISHED MOVING!
Please update your links. The Geocities address will be deleted on OCT. 26, 2009.
ACTUAL NEW ADDRESS: http://galaxyhigh86.tripod.com

CYBERTOON NEWS: Hey all, we will be moving the CybertOOn site, the Cartoon Resource Website and the Galaxy High Website due to Geocities closure. I am working on a temporary site to house them. In the meantime I was working on a brand new site, but will have to put that on hold do to the unscheduled move. For now just know that this site and the sister pages can be accessed now and post-move at Cybertoon.com. I will keep you all posted on other changes. Long live CybertOOn!


---
---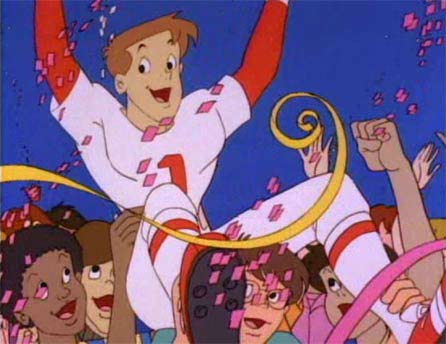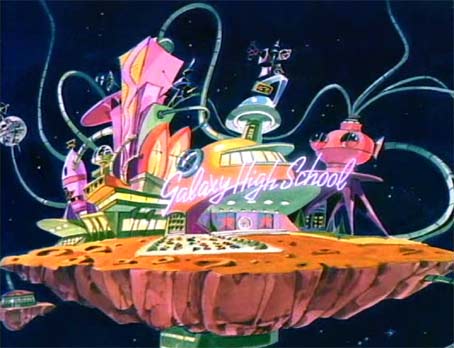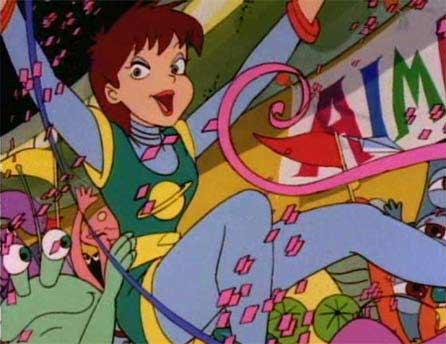 ---
Doyle Cleverlobe was a high school star and Aimee Brightower was not very popular, not very cool! The two kids are chosen from Earth to go to school at Galaxy High, the universe's first intergalactic high school! Now learn everything you wanted to know about this lost but very popular 1980s cartoon! Get an Episode Guide! Look up the students and faculty! Learn facts about the show! Get to know the cast and crew! Post memories of the show in our guestbook and talk to others in the message board and chat room! Also, get the series on DVD!!!


---
ULTRA RARE ALTERNATE GALAXY HIGH THEME SONG: This is the instrumental version showing various clips throughout the show:


---
Write to Media Blasters to get the music from the show released on a soundtrack CD!


---
Hard to believe Galaxy High debuted 23 years ago back in 1986! For a one-seasoned 13 episode series. It still remains strong in the hearts of the fans. Thanks to the people who campaigned to get the series on DVD here in the US!



GALAXY HIGH IS NOW ON


---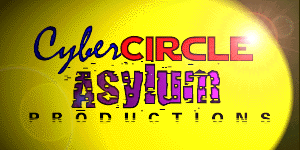 This site created on Feb 26, 2006
E-MAIL ME!